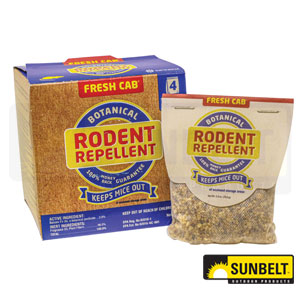 Fresh Cab® Rodent Repellent (PT # B1PMFCS12)
Botanical Rodent Repellent that Keeps Mice Out
FAST ACTING - Fresh Cab keeps mice out! For preventative use in non-infested areas, simply place one pouch for every 125 sq. feet.


NON-TOXIC - Made with balsam fir oil, this plant-based alternative freshens and protects our storage areas for up to 90 days.


NO-MESS, EASY TO USE - Remove plastic overwrap. For use in currently infested areas, increase use to 1 pouch per 8 sq. feet of floor space, and replace every 30 days.


ETHICAL/ENVIRONMENTAL - Made in the USA by EarthKind, the only company to develop a botanical rodent repellent that meets federal EPA standards for professional pest control use/effectiveness in indoor/enclosed areas.


PROTECT YOUR PROPERTY - Use Fresh Cab pouches to repel rodents from basements/attics, pantries, cabins, under hot tubs, garages/sheds, storage units, autos, trucks, tractors, farm equipment, sheds, barns, RVs and boats.