LaserEdge® Self-Sharpening Mower Blades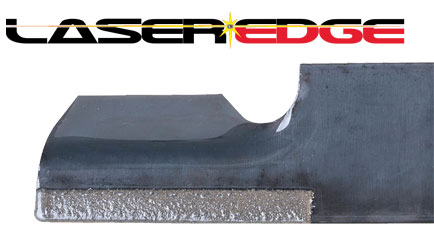 LaserEdge® Blades from Sunbelt Outdoor Products
LaserEdge® mower blades are the only commercial mowing blade that sharpens itself. Utilizing EverSharp™ technology, these hardened steel blades deliver superior performance and actually get sharper during use, resulting in minimal maintenance and maximum profitability for landscaping professionals.
LaserEdge® mower blades are available for select Bad Boy, Bobcat, Bunton, Dixie Chopper, Encore, Exmark, Ferris, Great Dane, Honda, Husqvarna, Hustler, Lesco, Scag, Snapper, Toro / Wheel Horse, Wright, and Yazoo/Kees mowers. Have more questions? Find your local reseller.
BLADES STAY SHARP LONGER

In abrasive conditions, a blade can get dull in as little as four hours, and lawn-care operations can go through dozens of blades a week, resulting in downtime and lost revenue. No matter the environment, a LaserEdge® blade "cuts itself sharp," reducing time spent sharpening.

LESS MOWER MAINTENANCE

Blade replacement can be a dangerous undertaking. Attacking a dulled edge with a makeshift sharpening tool can irreversibly damage a blade and put workers in danger. LaserEdge® blades dramatically reduce the frequency and risk of blade sharpening.

HEALTHIER, GREENER LAWNS

A dull blade shreds and tears grass, leaving it vulnerable to dehydration, browning and disease. LaserEdge® blades cut grass cleanly, making it easier to deliver high-quality lawn care and in-demand enhancements such as lawn striping.

INCREASED FUEL EFFICIENCY

Dull blades produce resistance, putting strain on the mower deck and making it difficult to maintain speed and efficiency. Mowing with a dull blade can reduce fuel economy by as much as 22 percent, which increases operating costs and reducing productivity.
50 HOURS OF TOUGHNESS
High-quality, hardened steel blades equipped with the EverSharp™ technology on their cutting edges have demonstrated their toughness and durability during thousands of hours of field testing and highly controlled lab testing. In an intense 50-hour field test in central Florida, mower blades with EverSharp™ technology proved they "cut themselves sharp" when a new cutting edge emerged as the blade wore down. In the test, a brand-new mower blade had EverSharp™ technology applied on one cutting edge and was left untreated on the other edge. After putting the blade to work for 50 hours, the results were clear. The LaserEdge® blade edge was still sharp, and the untreated side was dulled and worn away.


FIND YOUR BLADE
| | | | | |
| --- | --- | --- | --- | --- |
| Bad Boy | Type | Length | Center Hole | |
| Part No. B1LE1202 | High Lift - Notched | 18" | 5/8" | |
| | | | | |
| Bobcat | | | | |
| Part No. B1LE1202 | High Lift - Notched | 18" | 5/8" | |
| Part No. B1LE1803 | Medium Lift - Notched | 21" | 5/8" | |
| | | | | |
| Bunton | | | | |
| Part No. B1LE1803 | Medium Lift - Notched | 21" | 5/8" | |
| | | | | |
| Dixie Chopper | | | | |
| Part No. B1LE1501 | High Lift - Notched | 20-1/2" | 5/8" | |
| | | | | |
| Encore | | | | |
| Part No. B1LE1803 | Medium Lift - Notched | 21" | 5/8" | |
| | | | | |
| Exmark | | | | |
| Part No. B1LE1893 | High Lift - Notched | 24-7/16" | 15/16" | |
| Part No. B1LE1850 | High Lift - Notched | 24-7/16" | 5/8" | |
| Part No. B1LE1501 | High Lift - Notched | 20-1/2" | 5/8" | |
| Part No. B1LE1202 | High Lift - Notched | 18" | 5/8" | |
| Part No. B1LE1880 | Medium Lift - Notched | 20-1/2" | 15/16" | |
| Part No. B1LE1883 | Medium Lift - Notched | 18" | 15/16" | |
| Part No. B1LE1895 | Medium Lift - Notched | 16-1/4" | 15/16" | |
| Part No. B1LE1805 | Medium Lift | 16-1/4" | 5/8" | |
| | | | | |
| Ferris | | | | |
| Part No. B1LE1048 | Medium Lift - Notched | 16-1/4" | 5/8" | |
| | | | | |
| Great Dane | | | | |
| Part No. B1LE1803 | Medium Lift - Notched | 21" | 5/8" | |
| | | | | |
| Honda | | | | |
| Part No. B1LE1803 | Medium Lift - Notched | 21" | 5/8" | |
| | | | | |
| Husqvarna | | | | |
| Part No. B1LE1202 | High Lift - Notched | 18" | 5/8" | |
| Part No. B1LE1803 | Medium Lift - Notched | 21" | 5/8" | |
| | | | | |
| Hustler | | | | |
| Part No. B1LE1803 | Medium Lift - Notched | 21" | 5/8" | |
| Part No. B1LE1010 | Medium Lift | 20-1/2" | 5/8" | |
| Part No. B1LE1008 | Medium Lift | 18-1/2" | 5/8" | |
| | | | | |
| Lesco | | | | |
| Part No. B1LE1803 | Medium Lift - Notched | 21" | 5/8" | |
| | | | | |
| Scag | | | | |
| Part No. B1LE1803 | Medium Lift - Notched | 21" | 5/8" | |
| | | | | |
| Snapper | | | | |
| Part No. B1LE1202 | High Lift - Notched | 18" | 5/8" | |
| Part No. B1LE1803 | Medium Lift - Notched | 21" | 5/8" | |
| Part No. B1LE1048 | Medium Lift - Notched | 16-1/4" | 5/8" | |
| | | | | |
| Toro / Wheel Horse | | | | |
| Part No. B1LE1850 | High Lift - Notched | 24-7/16" | 5/8" | |
| | | | | |
| Wright | | | | |
| Part No. B1LE1803 | Medium Lift - Notched | 21" | 5/8" | |
| | | | | |
| Yazoo / Kees | | | | |
| Part No. B1LE1202 | High Lift - Notched | 18" | 5/8" | |