More About Sunbelt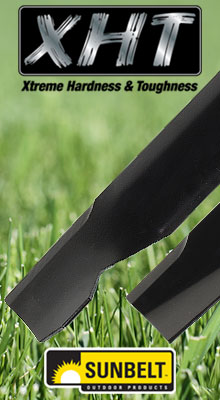 XHT and Predator blades are some of the strongest, longest lasting aftermarket blades on the market. Don't waste your money and time on over priced OEM blades. XHT and Predator blades meet or exceed OEM specifications at a fraction of the cost.
Learn more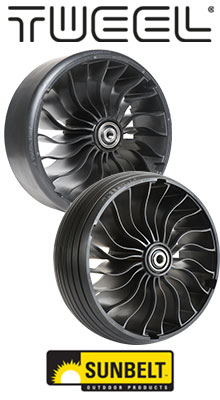 Michelin® X-Tweel casters are made of durable, poly-resin tread helps provide long wear life. The unique circular outer beam functions like a spring, creating suspension like characteristics for the front of the mower.
Learn more
Product Portfolio
Sunbelt Outdoor Products is your competitively priced source for quality products such as XHT lawnmower blades, Spark Plugs, Denso Spark Plugs, Predator blades, Buckingham Mfg. products, Carlisle tires, Carefree Tires, 2-cycle carburetion, chainsaw accessories, Eagle safety cans, Precision Industries spreaders, Fanno saws, Gold Eagle shop products, NGK spark plugs, Petzl products, PROMIX Ultra® 2-Cycle oil, quick loader heads, Titanium Power trimmer line, mower sulkies, Sunbelt small engine oil, Tygon fuel line, and much more! Sunbelt is committed to being your one and only choice for quality parts and accessories.
We strive to lead our industry with the latest innovations, and to provide you with one-stop shopping excellence for lawn and garden, and chainsaw parts. Competitive pricing, volume discounts, booking programs and responsive service - that's what you can expect when you do business with Sunbelt.