More About Sunbelt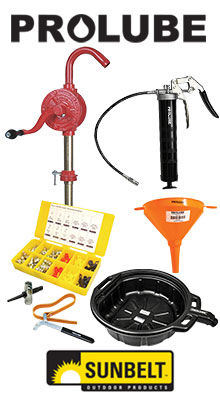 ProLube's offering includes electrical and mechanical grease guns, grease, grease injector needles, grease fittings and kits, hoses, and more.
Learn more
Champion Oil
Posted October, 2022

Sunbelt Outdoor Products is now offering Champion oils. Champion uses top tier additives and base stocks to formulate products for outstanding wear protection, fuel economy, high temperature stability, long-life protection, improved efficiency, oxidation resistance, less evaporation, increased performance, friction reduction, and lubricant compatibility across a wide range of engine operating conditions and applications.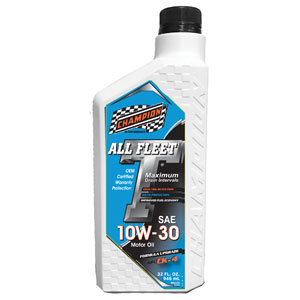 Champion All Fleet T Series, Quart
● Part No.
A-CHMP402
● 10W-30, Quart
● Champion All Fleet T series engine oil is designed to provide premium performance to meet the needs of next generation of heavy-duty engines. Increased power density, reduced oil volume and extended drain intervals place unique demands on engine oils to control oxidation by-products, sludge and deposits.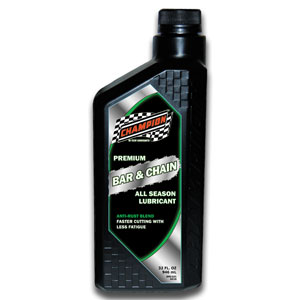 Champion Bar & Chain Oil, Quart
● Part No.
A-CHMP401
● Champion Bar & Chain Lube is formulated as an all-season lubricant for all link chains and chain bars helping extend chain life by protecting against wear, reducing friction plus heat, resisting high operational pressure with high load-carrying capacity. Recommended for all makes of chainsaws.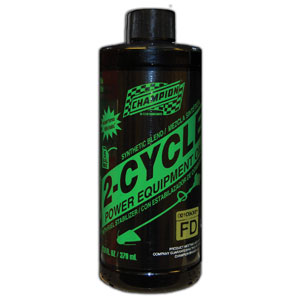 Champion 2-Cycle PowerQuip
● Part No.
A-CHMP252
,
A-CHMP251
,
A-CHMP250
● Champion Synthetic Blend 2-Cycle Power Equipment Oil is a Specialty semi-synthetic, designed for the demands of modern two cycle engines found in landscaping industry. Champion Power Equipment 2-Cycle Oil provides exceptional performance in the most demanding applications. Designed specifically to protect equipment and maximize the life of engines.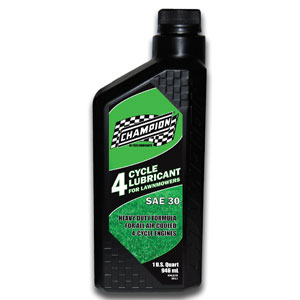 Champion 4-Cycle SAE 30 Lawnmower Oil
● Part No.
A-CHMP50
● 4-Cycle Lawnmower Engine Oil is formulated specifically for use in 4-cycle lawnmower engines operating at high temperature in dirty environments. It contains carefully balanced additive chemistry optimized to deliver premium performance in anti-wear protection. Recommended and preferred for use in Briggs & Stratton, Robin, Kohler, Tecumseh, and Honda air-cooled 4-cycle gasoline engines