More About Sunbelt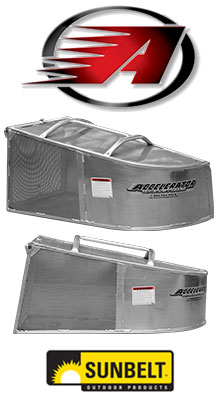 Accelerator Premium Aluminum Grasscatchers are proudly made of the highest grade materials in the U.S.A. by trained craftsmen. These grasscatchers are lightweight and will never rust, yet they are still strong enough to handle the wettest clippings and leaves.
Learn more
.
Fresh Cab® Rodent Repellent
Posted September, 2019

Fresh Cab® Rodent Repellent - Effectively repels rodents for up to 3 months with a woodsy scent that you'll find refreshing, but pests will find extremely offensive. Ideal for use in boats, campers, farm equipment, vehicles, garages, storage units, basements, attics, pantries, and more. No poisons, effective and convenient. Safe around kids and pets.
Simply remove the outer plastic wrapper and place the Fresh Cab® pouch in areas you want to keep free of rodents. Do not place directly on furniture or finished surfaces as product may stain.
To prevent and remove rodents from uninhabited enclosed areas, place Fresh Cab® pouches anywhere rodents tend to hide, feed, or seek nesting sites:
● Sheds & detached storage areas. ● Campers & RV's. ● Transformers, electrical panels, and meters. ● Stored vehicles. ● Farm vehicles & equipment. ● Warehouses & pallet racking. ● Offices. ● Pool pumps & covers.
For current rodent infestations 
Place 1 pouch per 8 sq ft wherever you've seen rodent activity. Replace after 30 days or when scent diminishes. 
For rodent prevention 
Place 1 pouch per 125 sq ft. Replace every 60 days or when scent diminishes. Increase the number of pouches as needed to increase efficacy. Cool temperatures and minimal air exchange will extend the product's life. Product will not lose effectiveness at freezing temperatures.
How to dispose of your Fresh Cab® pouches
● Remove the staples from the cardboard product label. ● Empty the contents of the pouch into your household compost. ● Place the cardboard product label in your recycling.
Learn more or buy at www.AllPartsStore.com