More About Sunbelt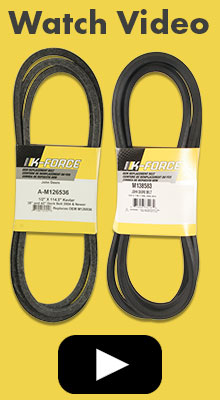 Learn how do identify worn or damaged belts, how to properly measure for a replacement and more.
Watch Video
K-Force™ Lawn & Garden Belts

Lawn & Garden Belts / OEM Replacement Belts
Sunbelt Outdoor Products offers one of the world's largest inventories of both Aramid & traditional Poly corded Lawn & Garden Belts. Our line of Aramid corded lawn and garden belts have become increasingly popular over the years due to their extreme strength, durability, and value-added pricing.

Aramid corded belts (or extra-heavy duty belts) are constructed of organic polyaramide fibers that are manufactured using complex chemical processes. Aramid is used in belts as a tension member because of its inherent stability and high tensile strength cord. Aramid corded belts also have a high resistance to elongation and have twice the tensile strength of Poly Corded belts.

Aramid constructed belts are specifically used on applications where: high levels of power transmission are required; there are restrictions on the drive width; the installation and take-up allowances are minimal; and the drive is critical. K-Force™ belts are designed to meet length, width, and depth requirements of the original OEM belts.
K-Force™ Belt Applications. Shop Belts Today!