More About Sunbelt
ProMix ULTRA®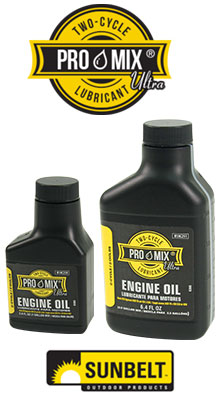 ProMix ULTRA® is the professionals choice for 2 cycle engine lubrication. ProMix ULTRAs semi synthetic formula provides the ultimate protection to allow the maximum performance from your equipment.The low-smoke formulation helps reduce exhaust smoke while meeting OEM specifications JASO FC and ISO L-EGD.
Titanium Power Trimmer Line
Posted October, 2019

Superior Performance and Longer Life
You invest a lot in your lawn and garden equipment. Shouldn't you receive a lot in return? the Titanium Power Trimmer Line is a revolutionary new cutting monfilament combining two durable materials for superior performance and longer life. What's the secret? the shield. Available in three variates-round, square, and the innovative twist shape - Titanium, Power encases the core material in a lay of 100% virgin resin that acts as a shield against wear and tear. This gives you a line that lasts 30% longer than traditional trimmer lines.
State-of-the-art manufacturing delivers the winning edge. The Titanium Power Trimmer Line is produced using a unique extrusion process. Extensive lat tests verify such factors as impact and weld resistance, noise level and humidity absorption. This trimmer line is engineered to stand up to the toughest jobs.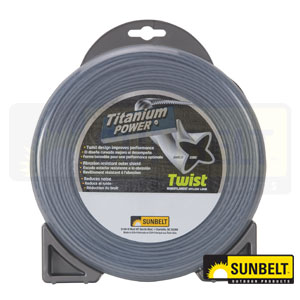 Titanium Twist by Titanium Power
Today's environmental issues include noise pollution and recent legislation limits the use of standard profile trimmer lines. The Twist Titanium Power Line offers a quieter solution. Developed through aerodynamic testing the Twist line has outstanding air penetration reducing noise pollution without compromising on performance.
Noise isn't all that's reduced. With is concentrated strength, the Titanium Twist Power Line requires less engine acceleration. this makes it easier to cut grass, so your machine doesn't have to work at full power. you can save on fuel costs, and general wear an tear, increasing the life span of your trimmer.
Titanium Twist is available in 0.080", 0.095",.105", and .130" thicknesses and 1/2, 1, 3, and 5 lb spools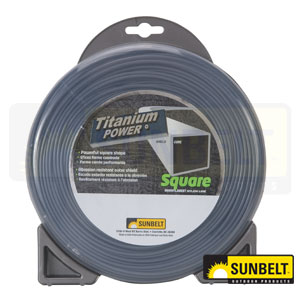 Titanium Square by Titanium Power
Titanium Square Trimmer Linegive you the advantage of a high-durability core encased in an impact and abrasion-resistant shell. See the difference that quality makes use after use. Square trimmer line is ideal for cleaning cutting through weeds and dense grasses. Titanium Square is available in in 0.095",.105", and .130" thicknesses in 1/2, 1, 3, and 5 lb spools.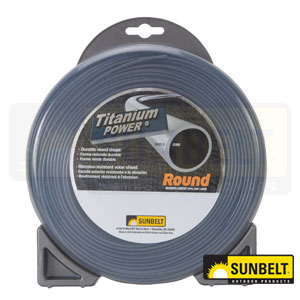 Titanium Round by Titanium Power
The classic Titanium Round Trimmer Line is stronger and more resilient than ever with the added protection of Titanium Power's rough resin skin, allowing you to take on the biggest projects with confidence. Titanium Round is available in 0.095", and .105" thicknesses and 1/2, 1, 3, and 5 lb spools.