More About Sunbelt
MICHELIN® X® TWEEL®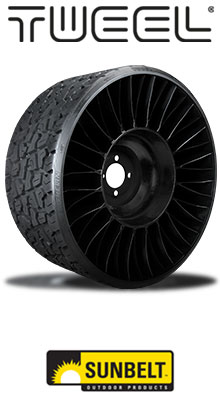 The MICHELIN® X® TWEEL® TURF airless radial tire is designed to help zero turn radius mowers achieve excellent cutting results and outstanding rider comfort, while eliminating downtime caused by flat tires.
Shop Wheels
MICHELIN® X-TWEEL UTV Tires
Posted February, 2023

Tweels for ATV & UTVs
The MICHELIN® X® TWEEL® UTV Tweels are designed specifically for difficult environments and conditions where vehicles are exposed to rugged roads, jagged terrain and other elements hostile to ordinary tires.
Full width Polyresin spokes help dampen the ride for enhanced operator comfort, while providing outstanding lateral stiffness, excellent cornering and side-hill stability. Low pressure contact patch helps provide outstanding off-road traction.
** Use of incorrect mounting hardware can lead to separation of the TWEEL from the vehicle, loss of control, and serious injury or death **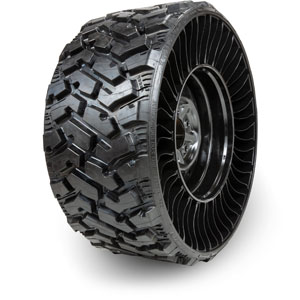 26x11N14 X-Tweel UTV
• Part No.
B110545TW5
• Size: 26x11N14 - 5 Lug • Mounted Diameter: 26" • Wheel Offset +40mm • Maximum Load 1323 lbs • Maximum Speed 62 mph • Learn more or buy at
www.AllPartsStore.com
26x11N14 X-Tweel UTV
• Part No.
B182599TW4
• Size: 26x11N14 - 4 Lug • Mounted Diameter: 26" • Wheel Offset +42mm • Maximum Load 1323 lbs • Maximum Speed 62 mph • Learn more or buy at
www.AllPartsStore.com