More About Sunbelt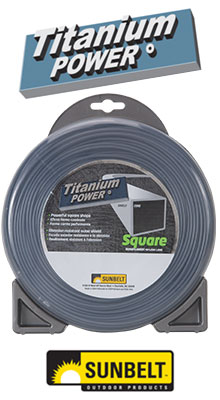 You invest a lot in your lawn and garden equipment. Shouldn't you receive a lot in return? the Titanium Power Trimmer Line is a revolutionary new cutting monfilament combining two durable materials for superior performance and longer life.
Learn more
B1LGT125 Universal Seats
Posted July, 2019

A Seat You Can Count On
The B1LGT125BL, B1LGT125GR, and B1LGT125YL aftermarket seats are constructed of a heavy duty durable foam and vinyl covering. Available in black, gray, and yellow. These seats are and ideal replacement seat for your Turf and Ag equipment. The B1LGT125 seats are constructed with a plastic base, drain hole, multiple mounting patterns for universal applications and accept round operator presence switch.
B1LGT125BL: Black Vinyl Seat | B1LGT125GR: Gray Vinyl Seat | B1LGT125YL: Yellow Vinyl Seat
Shop all seats at www.AllPartsStore.com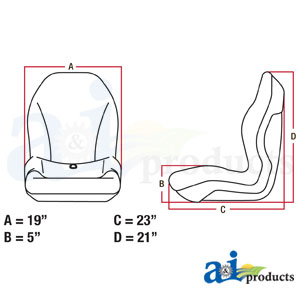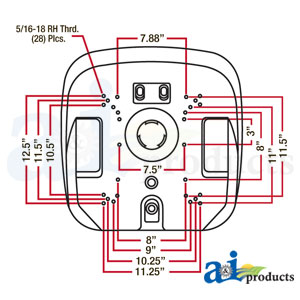 Direct Fit Applications
Ariens / Gravely
Riding Mower
: PM34Z, ZT1640, ZT1840, ZT1844, ZT1844XL, ZT2044, ZT2044XL, ZT2048, ZT2148XL, ZT2252, ZT2348, ZT2348XL, ZT2552
Bobcat
Skid Steer Loader
: S130, S150, S160, S175, S185, S250, S510, S530, S550, S570, S630, S650, S70, 463, 763, 763G
Case-IH
Skid Steer Loader
: SR130, SR150, SR175, SR200, SR220, SR250, SV185, SV250, SV300, TR270, TR320, TV380, 1830, 1835, 1835B, 1835C, 1838, 1840, 1845, 1845B, 1845C, 1845S, 40XT, 410, 420, 420CT, 430, 435, 440, 440CT, 445, 445CT, 450, 45CT, 60XT, 70XT, 75XT, 85XT, 90XT, 95XT
Exmark
Zero-Turn Mower
: EXS-20KC, EXS-20KC-2
Ferris
Zero-Turn Mower
: IS500Z, IS5100Z
Gehl
Skid Steer Loaders
: 3635, 3640E, 4240E, 4635SX, 4640E, 4640T, 4840E, 5240E, 5625, 5635, 5635SX, 5635SXT, 5640, 6620, 6635, 6635SXT, 6640
John Deere
Compact Tractor
: 2305, 2320, 2520, 2720, 3320, 3520, 3720, 4120, 4200, 4210, 4300, 4310, 4320, 4400, 4410, 4500, 4510, 4520, 4600, 4610, 4700, 4710, 7420, 655, 755, 756, 855, 856, 955
Front Mount Mower
: F1145, F910, F911, F912, F915, F925, F930, F932, F935
Greens Mower
: 2500, 2500A, 2500B, 2500E, 2653, 2653A, 2653B
Riding Mower
: F510, F525, F725, F735, GT225, GT235, GT235E, GT242, GT245, GT262, GT275, GX255, GX325, GX335, GX345, GX355, G100, LA115, LA125, LA145, LA155, LT150, LX172, LX173, LX176, LX178, LX186, LX188, LX255, LX266, LX277, LX279, LX280, LX288, LX289, L111, SST16, SST18, X300R, X304, X320, X340, X360, X465, X475, X485, X495, X500, X520, X530, X534, X540, X575, X584, X585, X590, X595, X700, X720, X724, X728, X729, X740, X744, X748, X749, X750, X754, X758, 165, 240, 245, 260, 265, 285, 318, 320, 3215, 3215A, 3235, 3235A, 325, 335, 345, 415, 425, 445, 455, 7400
Skid Steer Loader
: 125, 170, 24, 24A, 240, 250, 260, 270, 280, 313, 315, 317, 318D, 318E, 319E, 320, 320D, 320E, 324E, 325, 326D, 326E, 328, 328D, 328E, 332, 332D, 332E, 70, 90
UTV
: M Gator, RSX850I GATOR, RSX850I TRAIL GATOR, RSX860E GATOR, RSX860I GATOR, RSX860M GATOR, XUV GATOR, XUV 550 GATOR, XUV 550 S4 GATOR, XUV 560 S4 GATOR, XUV 560E GATOR, XUV 590I GATOR, XUV 590I S4 GATOR, XUV 590M GATOR, XUV 590M S4 GATOR, XUV 620I GATOR, XUV 625I GATOR, XUV 825i S4 GATOR, XUV 825E GATOR, XUV 825I GATOR, XUV 825M GATOR, XUV 825M S4 GATOR, XUV 850D GATOR, XUV 855D GATOR, XUV 855D S4 GATOR, XUV 855E GATOR, XUV 855M GATOR, XUV 855M S4 GATOR
Zero-Turn Mower
: Z225 EZTRAK
Toro
Riding Mower
: REELMASTER 6500D, 3050 GREENSMASTER, 3100 GREENSMASTER, 3250D GREENSMASTER, 3280D GROUNDSMASTER, 3500D GROUNDSMASTER, 4500D GROUNDSMASTER, 4700D GROUNDSMASTER